Sale!

0-15000mAh 18650 50BAR Wireless Car Washer High Pressure Car Wash Water Gun Portable High Pressure Washer for Makita 18V Battery
Description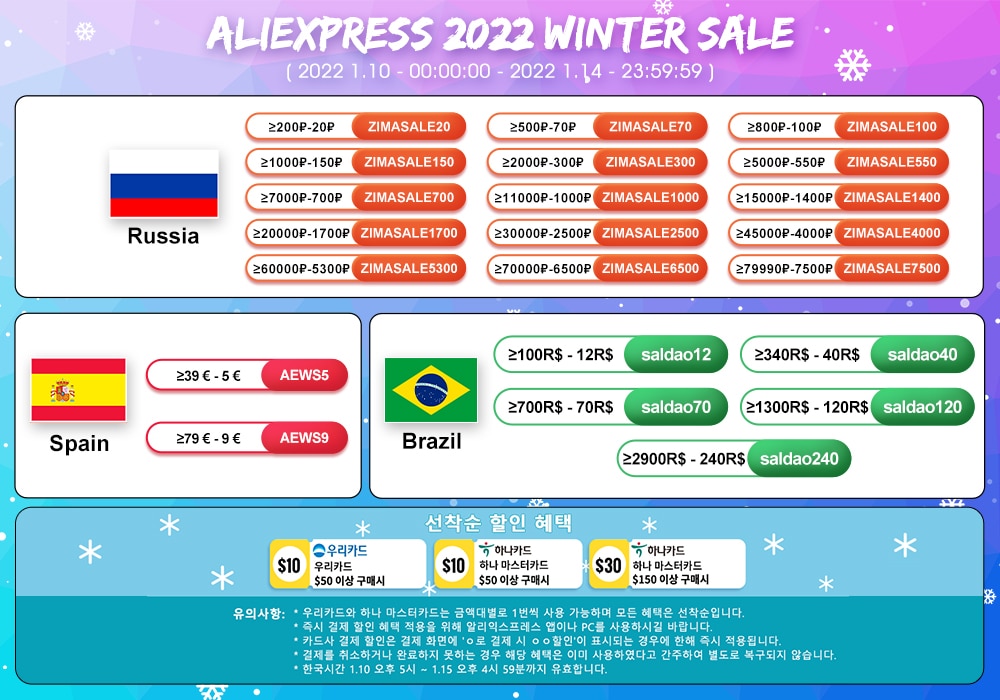 Specifications:
Brand: No Brand

Color: Black

Battery Type :Normal(21V/25V) / Waterproof(21V)

Voltage:21V/25V(21V is normal voltage in the range of 18-21V, 25V is normal voltage in the range of 22-25V)

Battery capacity: 25V-15000mAh(2500mAh*6); 21V-15000mAh(1500mAh*10)

Power: 500W

Water Flow: 4 L/Min

Product pressure: 50bar Max

Product pressure: 30bar/435PSI

Charger Voltage: AC 100-240V 50/60Hz

Length Of Water Pipe: 5 Meter

Material: ABS and Copper

Range: 2-3 Meters

Storage Box Size: 31x25x12cm

Charger Plug: EU Plug
Package Include:(Shipment according to the Type you choose)
1 x Car Washing Machine

1 x 0° Nozzle

1 x 40° Nozzle

1 x Extension Rod

1 x Quick Connector

1 x 5M Water Pipe

1 x Introduction Manual

1 x Lithium Battery x1 (Optional)

1 x Battery Charger x1 (Optional)

1 x Foam Pot
Q & A
Q1: Why does the car washing machine not start after turning on the switch
A1: Maybe the battery is out of power, please charge
Q2: Why is there no water after turning on the car washing machine
A2: Observe whether the water pipe is bent and the water cannot be released; press the car washer for more than ten seconds and wait for the water to be sucked into the car washer
Q3: Why is the water pressure so small
A3: The size of the water pressure has a certain relationship with the nozzle, you can choose to replace the nozzle; when the battery is used up, the water pressure will be low, please charge.
Q4:Why is there water in the product?
A4:Since the machine needs to be tested for water before leaving the factory, there will be residual water stains in the machine, which is a normal production process.If you mind this, please consider carefully before placing an order!!!
Adapted to 18V Makita battery
√ compatible for 18V B series lithium battery,such as BL1850B(197285-8),BL1840B(197270-1),BL1830B(197602-2),BL1430B(197618-7),BL1820B(197487-6);
√ compatible for BL1850,BL1840,BL1440(196391-6),BL1415(194560-3),BL1815N(196781-3);
× NOT compatible for G Series battery such as BL1813G(196663-9) BL1413G(196882-7) BL1415G BL1430G BL1815G and so on
× NOT compatible for 18v Ni-CD battery such as 1822(194465-7)
Warm Tips:
1.After the car wash machine is used, it should run empty for a few seconds to drain the residual water in the machine, avoid oxidizing dirt and freezing for weather reasons, and store it in a dry and cool place.
2.Do not store in the trunk of the car in hot weather to avoid fire caused by high temperature.
3.Batteries need to be kept away from water.Remove the battery after use, so as not to affect battery life.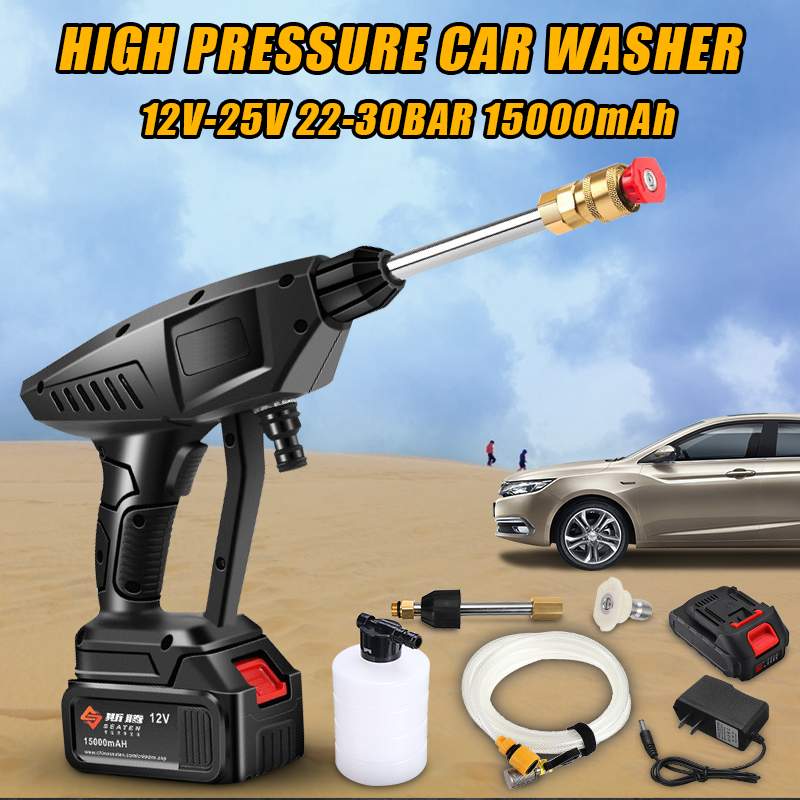 Features:
● Powerful all-copper motor, automatic shutdown and start-stop.
● Portable self-priming, faster and stronger, built-in stainless steel fine filter, highly effective and deep filtering of impurities in the water.
● The water gun can switch the water type at will, and the water flow can be adjusted gradually from small to large by replacing the nozzle, and the fan-shaped and direct water line adjustment can be switched at will.
● Powerful battery life, lithium battery greatly extends the service life of the machine
● Intelligent induction variable frequency motor, water spray motor automatically starts, stop water spray motor automatically stops.
● It can be used as wash water gun, garden irrigation tools.
● Ideal for garden watering, agricultural irrigating, car washing, household cleaning and so on.
● Universal battery socket,the universal battery socket is used, making it more convenient to buy spare batteries. If you need to buy batteries, please contact customer service and confirm before purchasing.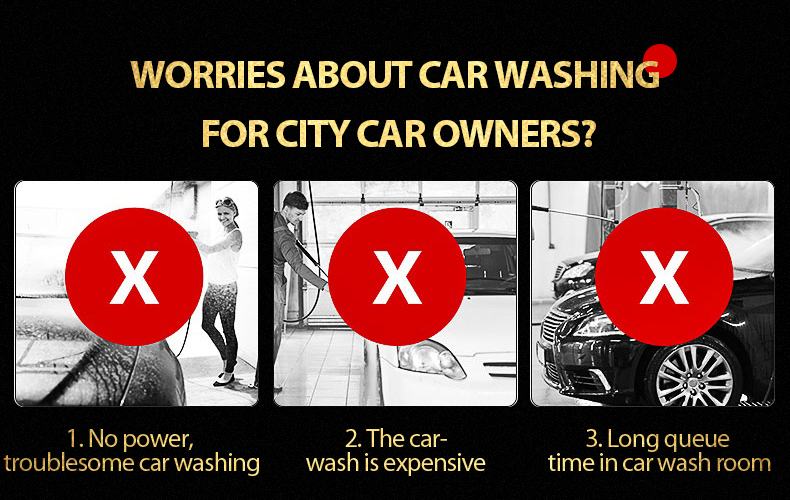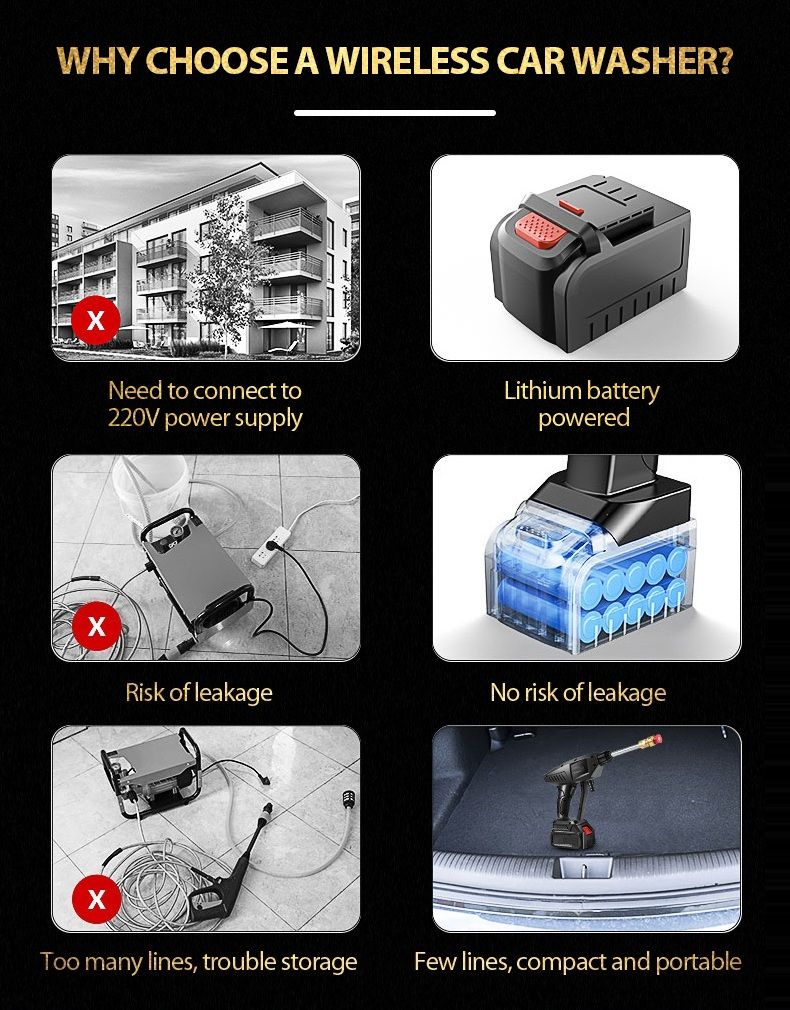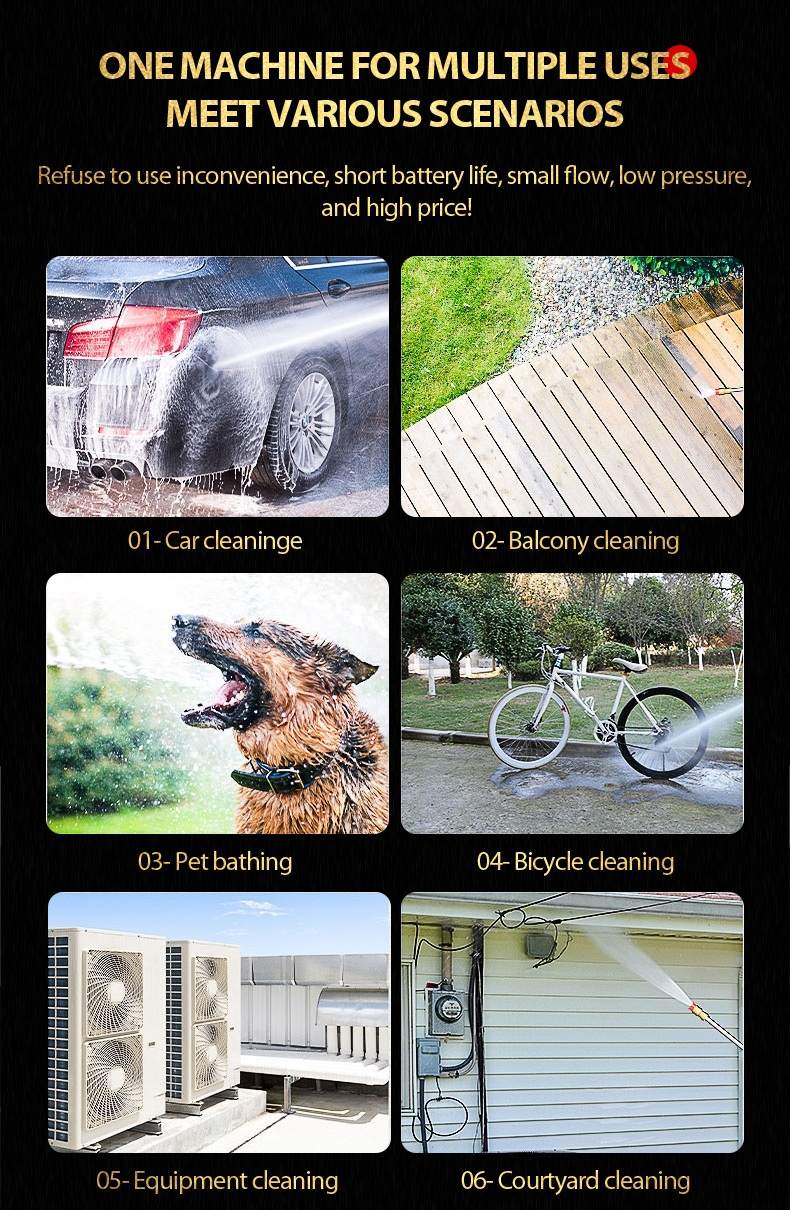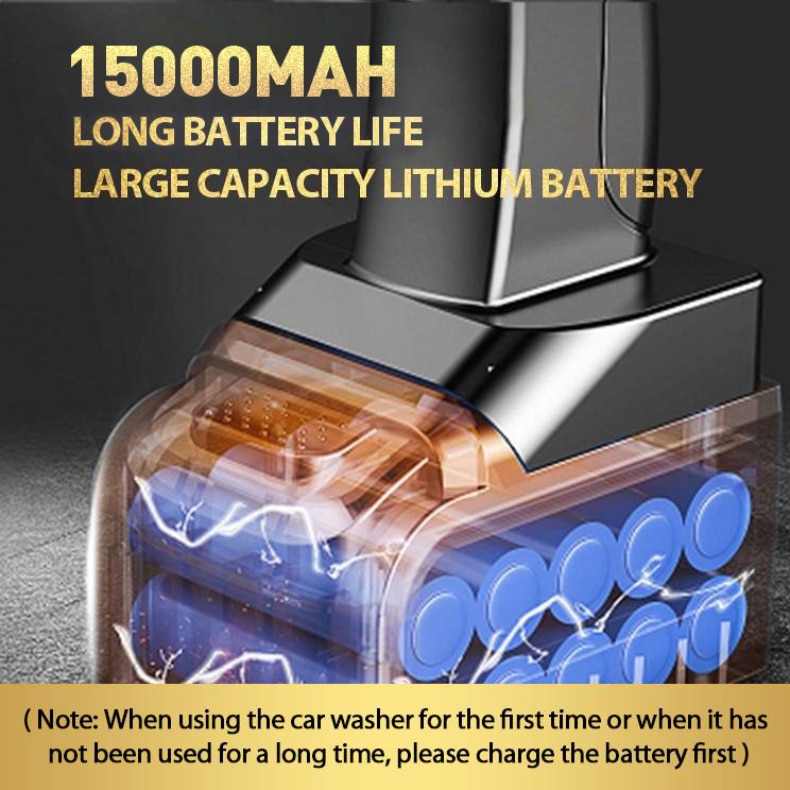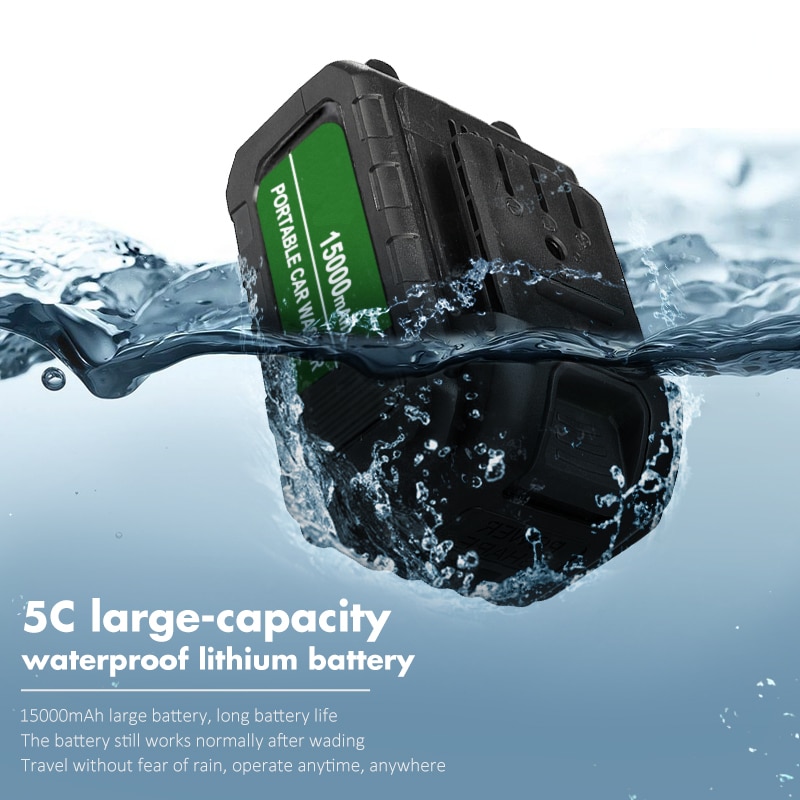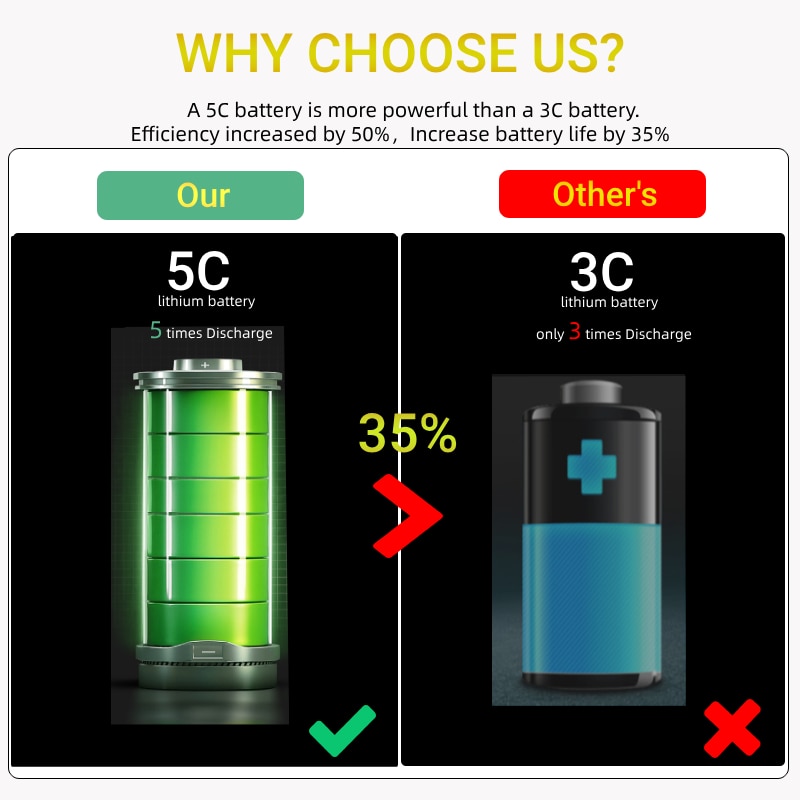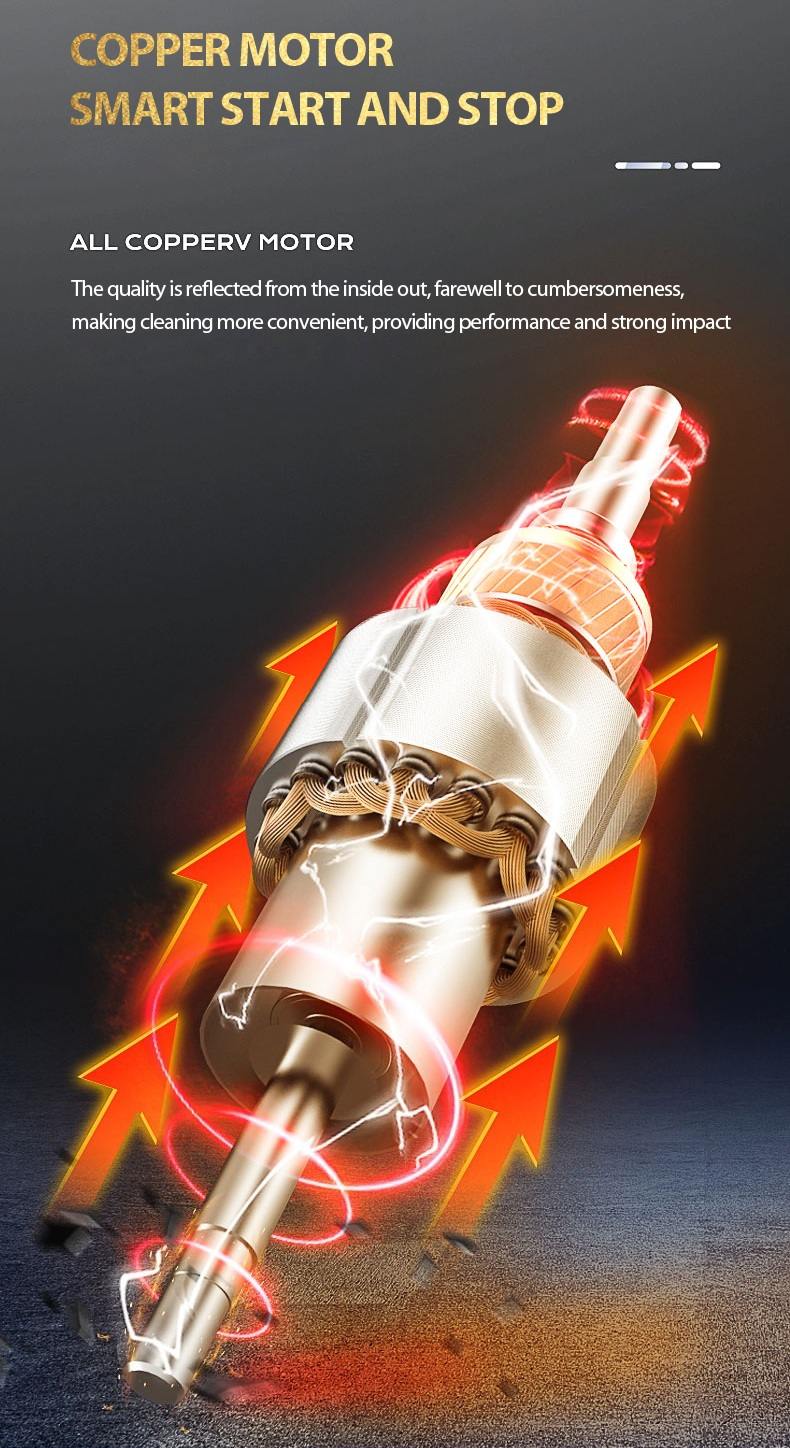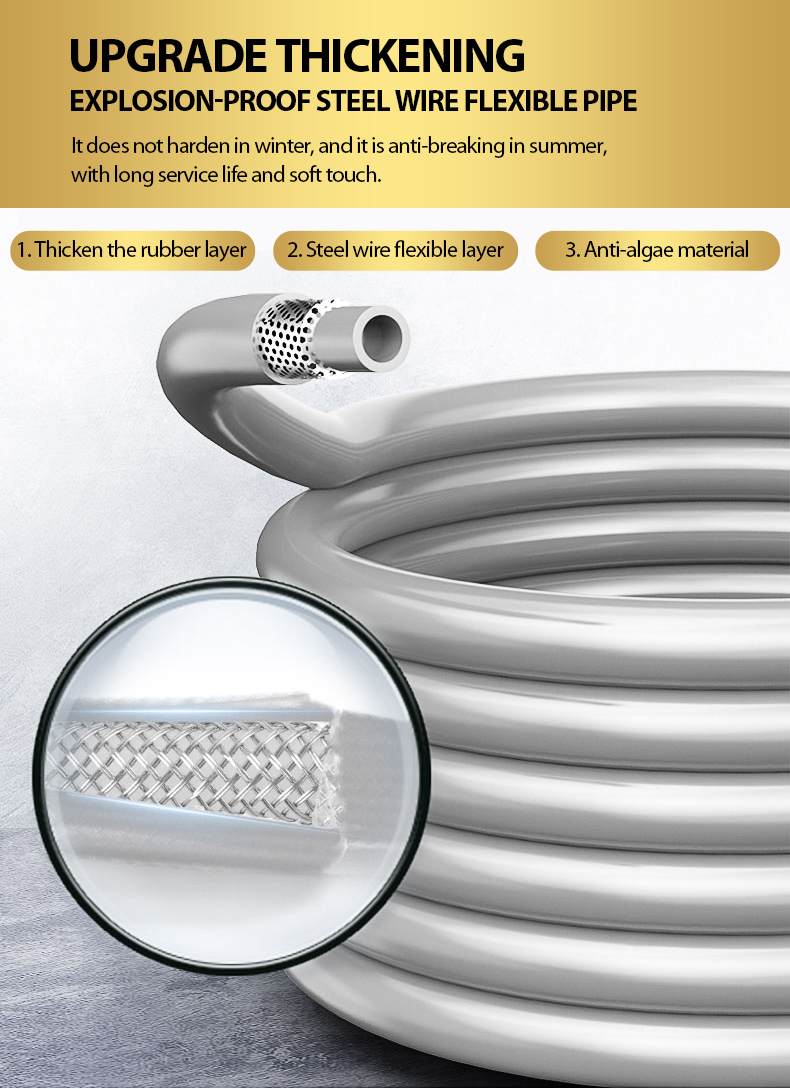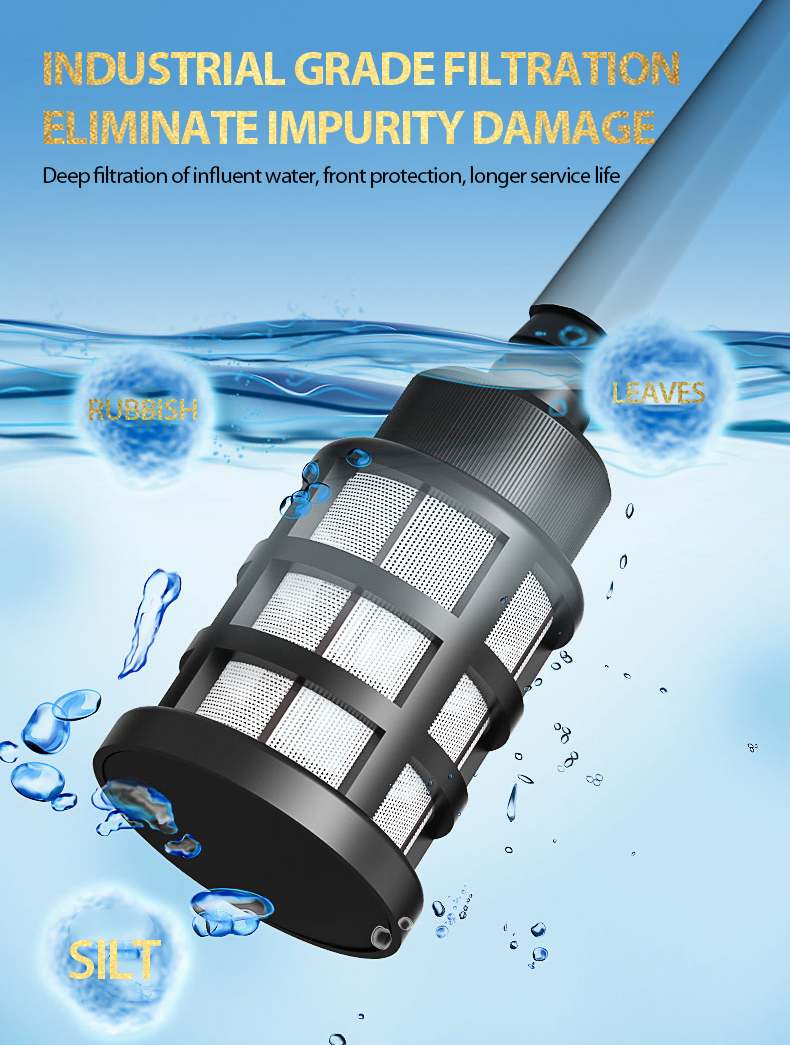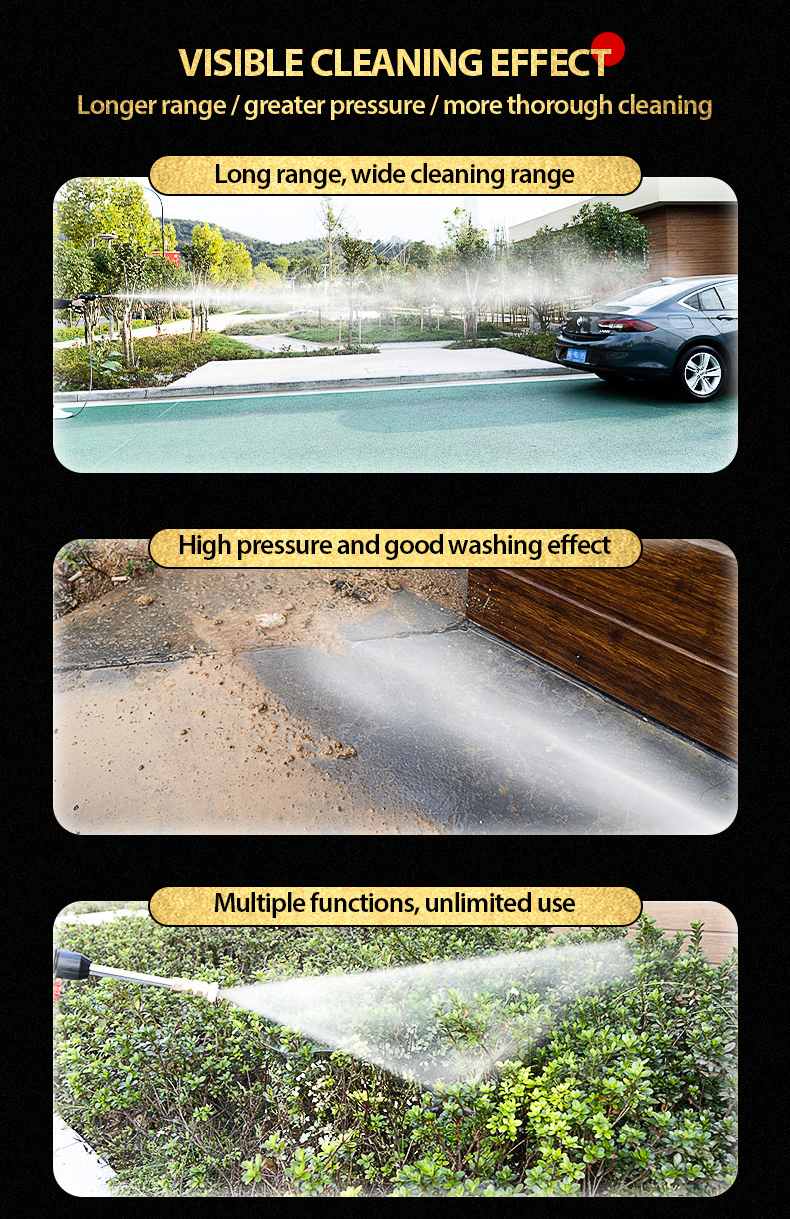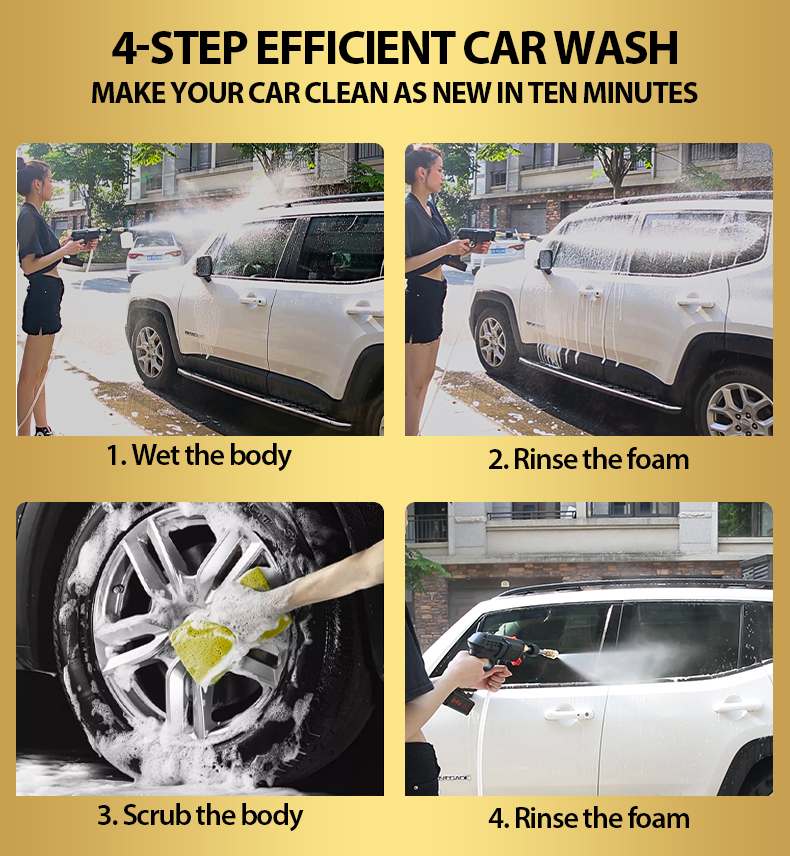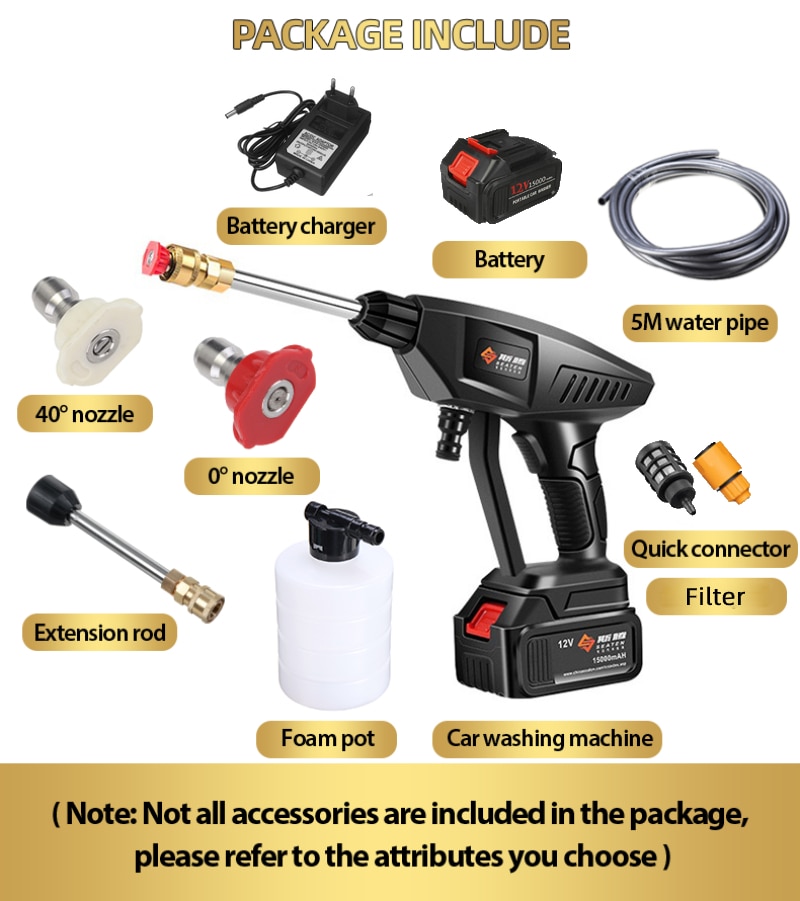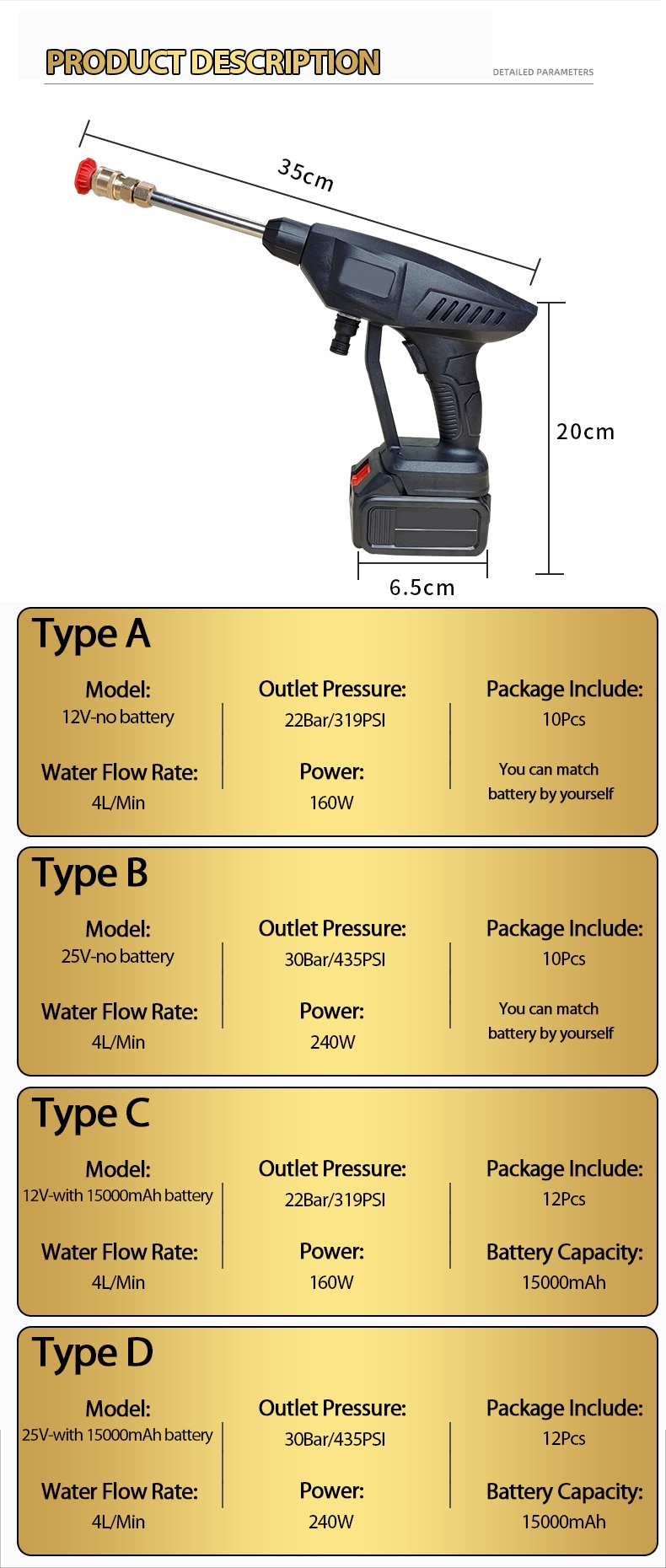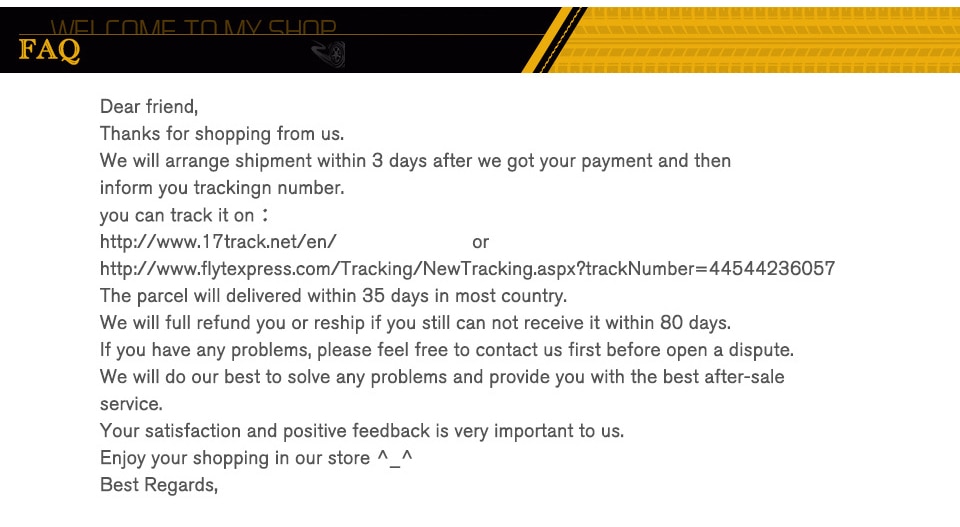 Additional information
| | |
| --- | --- |
| Brand Name | Audew |
| Motor Type | Universal Motor |
| Origin | CN(Origin) |
| Item Length | 12cm |
| Include Accessories | Yes |
| Item Type | Car Washer |
| Item Weight | 2.5kg |
| Item Width | 25cm |
| Model Name | High Pressure Car Wash Water Gun |
| External Testing Certification | CCC |
| Item Height | 31cm |
| Power Supply | Lithium Battery |
| Water Pipes Length | 5M |
| Handle Type | Finger Grip |
| Nozzle Material | Copper |
| Voltage | 12V or 25V |
| Current | 10A |
| Flow Rate | 4L/Min |
| Speed | 4100r/min |
| Lithium Battery Capacity | 0 or 12000mAh or 15000mAh |
| Power | 160W or 240W |
| Working Pressure | 22Bar or 30Bar |
| Name 1 | Power Washer |
| Name 2 | Cordless Washer Gun |
| Name 3 | Water Pump |